Roll over image to zoom in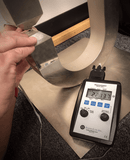 Description
No longer a stock item; for pricing on this assembly, or a quote on a tailored design, please

contact us

or fill out our

custom request form. 

Dipole Assemblies producing over 2.0 Tesla field within 9 mm square by 5 mm gap. Dimensions of C Magnet are 15" high x 9.25" wide x 2" thick. Mounted on a base that is 13" sq. x 0.500 th.


SM Magnetics, the engineering and manufacturing sister company of SuperMagnetMan, has been assisting Corporate customers for many years with their custom designs requiring a large magnetic field in a specific area.

SM Magnetics has their own ISO certified factories and controls the entire manufacturing process when making individual magnets or entire magnetic sub-assemblies. For assistance from a technical representative at SM Magnetics, click here for the contact info.

View our video about this product:

 
---
| | |
| --- | --- |
| Height | 15" |
| Length | 9.25" |
| Max Working Temp | 80 °C |
| Strength | 2+ Tesla |
| Thickness | .500" |
| Direction of Magnetism | Across Gap |
If you encounter a problem with your order, or have questions and wish to return your parts, please contact us at 205-621-8841 or orders@supermagnetman.com to acquire a Return Material Authorization (RMA) number. All returns must be made within 60 days of delivery date. To ensure a return is processed quickly, an RMA number and a copy of the packing slip must be included with the shipment. 
All returns should be sent to:
SuperMagnetMan
Attn: (RMA number)
2000 McCain Pkwy
Pelham, AL 35124


Shipping Errors or Damaged Product
Shipping cost for returns will be the responsibility of the customer unless the parts are incorrect or damaged upon arrival. For shipping errors or damage, SuperMagnetMan will bear the cost to replace the parts and the return shipment for the incorrect or damaged product. Custom orders cannot be returned unless the parts are incorrect or damaged. For details on returning parts, contact our shipping department at 205-621-8841 or email orders@supermagnetman.com for instructions.
Restocking Fee
Parts returned at the discretion of the customer will be subject to a 10% restocking fee. This policy applies only to orders received from our online store. 
Packaging Notes
If possible, please ensure that all products are in their original packaging to avoid damage during the return shipment. The customer will be responsible for shielding the magnets properly so that the box or envelope is not magnetic at the surface. If a paper clip sticks to any side of the package  more packing material (sheet metal, foam wrapping, peanuts, etc.) or a larger box will be required. If the parts are not properly protected, there is no guarantee the return will make it back to us in its original condition, and a refund will not be issued.
Refunds
If replacement parts are not needed, refunds will be issued for parts only once they are returned to our facility in the same condition they were shipped. This does not apply if the return is for incorrect or damaged parts. 
It is important to us that you are happy with your order. Please contact us with any questions or concerns.
Thank you for your business!
Payment & Security
Your payment information is processed securely. We do not store credit card details nor have access to your credit card information.